Amea is going about her everyday business and the next thing she remembers is waking up in a strange bed unable to recall anything other than her name. Oh, and there is a strange man in the room. I know what you are thinking: Amea really should cut down on those vodka-whiskey-rum cocktails. You'd be wrong. As far as I know, Amea does not drink at all. She does have gruesome visions, however. And it is after one such vision that she finds herself in the strange bed with the strange man.
Thus begins this neat side-view slash-and-dash RPG game from Aussie developer Godlimations (who you might remember for his fun dragon-nurturing game Dragon Boy).
It soon becomes apparent that there is something very wrong with the world in which Amea finds herself. There are all these threatening zombie-like creatures wandering around. Now, if only the stranger in the room could shed some light on this, Amea would feel a lot better. But, alas, he has lost his memory too, and has no more of a clue what is going on than Amea does.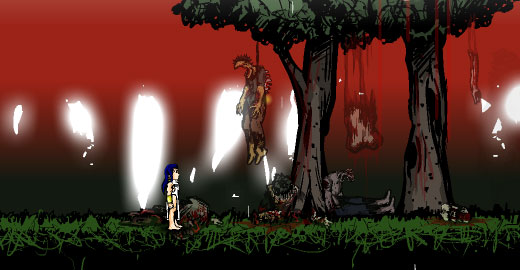 Amea
So you, Amea, grab a sword that in typical RPG style just happens to be lying around and venture out into the wild outside to find some answers. As you do, a voice blurts out from nowhere and taunts you.
As RPG storylines go, it is actually not at all bad. And one can't help but be impressed by the elegant way that the tale is told using nicely-drawn cutscenes and character animations. The game has a great sketchy visual style that remind me a little of the work of that great point-and-click maestro Mateusz Skutnik, though - I hasten to add - we are not talking any plagiarism here.
There is also a very dark vibe to the game. This is very much a horror-survival sort of RPG, and I came across at least one location - featuring a wall covered in dead corpses - that could have been lifted straight from Dante's Inferno.
So the visual style and storyline are spot on. What about the game-play? You'll be pleased to hear that the game performs admirably here too. The controls are simple - arrow keys to move and jump and a, s and d keys to use your weapon, cast spells and sup health potions.
In a nice touch, holding down different direction keys while attacking results in different types of attack, each with its own slick animation. The only criticism I would have is that the jump animation is not very good - jumping actually seems to make you slow down.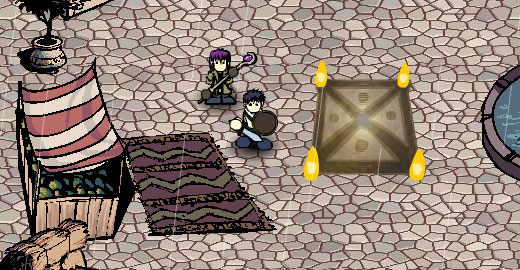 Dragon Boy
Amea is a RPG of course, so you can also expect the usual trappings of the genre: chests full of cool items, plenty of different weapons to find and regular leveling up.
Unlike in many RPGs, the skill points you gain from leveling up do not go into improving physical attributes such as strength, dexterity and endurance but are instead invested in improving the power of magic spells that you find. These spells include everything from a passive regeneration ability to a fiery magical attack on enemies.
I have a soft spot for RPGs and especially ones where you can play as a girl, so I was always going to love Amea. But even for non RPG fans, this game has plenty to offer. Play the game here.