In September last year, we introduced our readers to a new technology for creating online games. HTML5 - as the technology is called - has the great advantages of being both completely open source and not needing a browser plugin. At the time, we published a list of the 30 best HTML5 games to show the potential of this powerful new technology.
Just a few months later and our list of HTML5 games looks hopelessly dated. Few of the games we featured would appear in any list of top HTML5 games compiled today. That is because great advances have taken place in HTML5 game design since we published the article. The HTML games being released today are not experimental prototypes but often fully-fledged games that do not look out-of-place alongside their Flash counterparts (Flash of course long being the dominate technology for making online games).
Examples of great HTML5 games include Biolab Disaster, a slick sci-fi platformer featuring impressive particle physics and fast-paced action, Pirates Love Daisies, a pretty tower defense game developed to showcase Microsoft's new IE9 browser's capabilities, and Canvas Rider, a side-view physics biking game where you race on beautiful community-created courses.
Amazing as these games are, they pale when compared with the game we are featuring today. Tank World is without doubt the most impressive HTML5 game we at Casual Girl Gamer have seen.
In terms of game play, the game is not unlike iPad/iPhone title Endi Tank Battle (which we have been having some fun with recently). You take charge of a tank and have to battle it out with other tanks over a series of different levels. You move around using the arrow keys and direct and fire your turret gun using your mouse.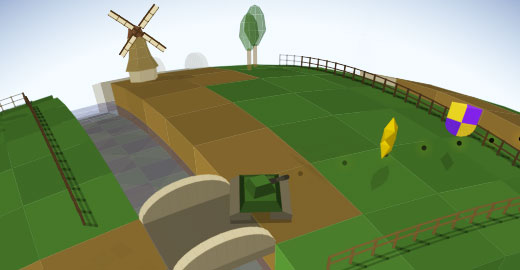 Tank World
Each level is designed as a spherical world, and this is where the game's stunning 3d graphics come into their own. It is really like being on a tiny planet - the horizon is curved, and buildings - including wind mills and bridges - fade into view as they rise up into your field of vision.
There are easily enough levels to keep even the most hardened tank sim addict happy and new levels are being added all the time. The game indeed comes with a fully-fledged level editor, allowing anyone to create their own level. If you log in, you can also compete to top the high score league for each level, providing plenty of replay value for all those you just can't stand not coming first.
One word of warning before you jump in and play the game. HTML5 is a relatively new technology that only works in modern browsers. The game is also very CPU intensive thanks to its 3d graphics and may slow old computer downs. We recommend that you play the game in either Chrome or Safari - alas, Firefox is just not up to the job unless you are running it on a super fast computer.
If you are an Internet Explorer user and you don't want to change to a different browser, we recommend you install this plugin. It will invisibly upgrade your browser to the latest standards and allow you to play this game. Now that you are all setup, go enjoy all Tank World's HTML goodness here.
If Tank World is an indication of what we can expect from HTML5, then the technology is guaranteed to have a rich future in online game development.