When developer Danny Miller created a little chain reaction game called Boomshine in 2007, he did not have particularly high hopes for it. The game was incredibly simple. Nothing more than an oblong box with small spheres bouncing around. All you did was click somewhere with your mouse to create an explosion, the idea being that any sphere that came into contact with the detonation would in turn blow up, setting in motion a chain reaction.
Despite its simplicity and basic graphics, Boomshine proved a huge success. People were enchanted by the simplicity and addictiveness of the game, and played it in their millions. More than three years after its creation, and Boomshine is still to be found in many people's list of must-play Flash games.
As with all popular new gaming concepts, Boomshine has been much imitated. Disappointingly, few of the copycat games have added much to the original, usually - as with the pretty Flower Reaction - simply improving on the very basic visuals rather than expanding on the game-play.
That is why we were delighted to come across Icy Gifts, a new chain reaction game by the guys at Silen Games in which you have to unlock presents encased in ice blocks by blowing them up. Icy Gifts is clearly inspired by Boomshine - its core game-play mechanic is pretty much identical - but the game offers so much more.
Icy Gifts
Boomshine always had the feel of a partly finished prototype that did not quite fulfil its potential. Icy Gifts has taken the core features of Boomshine and added all the extra trimmings that people nowadays expect from a game. So you have a series of achievements to aim at, and also an upgrade path for your explosion. The points you accumulate by completing levels can be spent on increasing the radius of your explosion, giving it a magnetic ability to attract things into it, and so on.
You can also put your points into boosting the number of shells that appear on each levels. Shells are among a number of new objects that appear in Icy Gifts. When they come into contact with an explosion, they fire off projectiles that cause other objects to detonate. Other unique objects include acid spots which explode things that run into them, and mines, which do what mines do: blow up. The size and power of the acid spots and mines can also be increased by upgrading them.
By providing a range of objects, each with their own unique powers, Icy Gifts provides more complex and varied game-play than the passive spheres of Boomshine.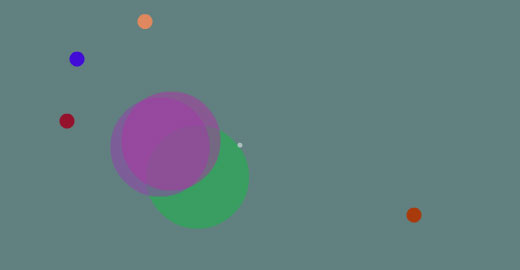 Boomshine
Icy Gifts also differs from Boomshine in its presentation. Whereas Boomshine is a relaxing game with subdued visuals and trancy music, Icy Gifts is a colourful extravaganza of a game, featuring cute cartoony graphics and an upbeat soundtrack. Whether Icy Gifts, with all its extra features and funky design, works better than the simple purity of Boomshine is a matter of taste but there is no doubt that Icy Gifts is an intriguing and fun addition to the chain reaction genre. Play the game here.